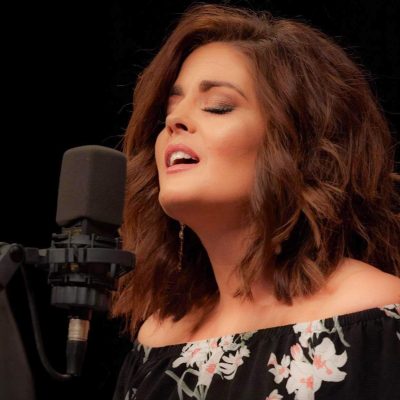 The Spring Water Festival will feature Bluegrass/Americana music headliner Kristi Stanley. Stanley has become well known for performing a diverse mix of Americana and Bluegrass music. Her shows also include Gospel, Traditional Country, and an occasional Classic Rock song. Stanley is the daughter-in-law of Bluegrass legend Ralph Stanley who was known for his distinctive singing and banjo playing as well as being the leader of his band The Clinch Mountain Boys.
Spring Water Festival to feature Gospel, Beach, Bluegrass/Americana

The 41st Annual Spring Water Festival, August 26 and 27 in Williamston's Mineral Spring Park, will feature a variety of music including Beach, Americana, Bluegrass, Country, Blues Rock and Gospel.
Saturday's entertainment will feature Bluegrass/Americana music with headliner Kristi Stanley. Her shows include an array of Americana, Bluegrass, Gospel, Traditional Country, and even an occasional Classic Rock song.
Kristi Ison Stanley is the daughter-in-law of Bluegrass legend Ralph Stanley who was known for his distinctive singing and banjo playing as well as being the leader of his band The Clinch Mountain Boys.
While in the ban Sandy River, Kristi opened for National acts including Kenny Chesney, Billy Ray Cyrus, and Ricochet.
Dr. Ralph Stanley asked her to be a part of the Grammy-nominated album "Clinch Mountain Sweethearts".
She joined Dolly Parton, Pam Tillis, Sara Evans, and Chely Wright on the project.
Kristi, at the time 18 years old, sang "I'll Never Grow Tired of You" with the bluegrass legend himself, and was both honored and humbled by the experience.
Kristi had great success with her first studio venture "Heart Wide Open", released in 2018.
After marriage and two children, she returned to performing.

She teamed up with engineer and producer, Steve Wilson, of Westminster and Bonfire Recording Studio in Greenville, and they got to work on pre-production for her next project in 2019.
Unfortunately, when the Covid shutdown occurred, things were put on hold. Kristi was scheduled to perform at the Spring Water Festival in 2020, however it too was canceled due to the shutdown.
The album is now finished and Kristi has recently been signed to the 615 Hideaway Record label to release her self-titled album in 2022.
Kristi said her new music release "is the music I've wanted to make, it's me." Stanley loves to combine her love of Classic country, bluegrass, gospel and even some rock and roll into her unique flavor of Americana. Her new album truly has something for everyone.
Also performing will be local Bluegrass and Americana groups Angela Easterling and the Beguilers and Crawford Colt.
Angela Easterling & The Beguilers
Singer/Songwriter Angela Easterling performs rootsy, refreshing, homespun tunes with her backing band, The Beguilers. The Beguilers feature complex styles, with instrumentation that fleshes out the stories in Angela's songs, and adds some rocking fun. Their act is not quite country, not quite folk, but all together unique and engaging.
Angela lives with her musical partner and their three young sons on the Greer, SC farm that has been in her family since 1791. Her most recent release, "Common Law Wife", went all the way to number 1 on the Roots Music Report Americana Country Airplay Chart, and remained in the top five on that chart for over 2 months, garnishing much praise in the press.
Her album, "BlackTop Road", produced by Will Kimbrough, was on the Americana top 40 airplay chart for 7 weeks. It was chosen as a top pick in both Oxford American and Country Weekly.
She was selected for an official Americana Convention Showcase, official showcases at both NERFA and SERFA (Folk Alliance) and is also a four-time Kerrville New Folk Finalist, a Telluride Troubadour and a two-time Wildflower Performing Songwriter Top 10 Finalist.
In 2019, Angela had the distinct honor of performing her song, "Isaac Woodard's Eyes" at the unveiling ceremony of an historical marker in honor of the late civil rights hero, Sgt. Isaac Woodard.
Angela has toured the U.S., both solo and duo with Brandon Turner, and has appeared with her crowd-pleasing band The Beguilers at numerous concert series and music festivals throughout the Southeast, including Shakori Hills, Fall for Greenville, NC Apple Festival, Strawberry Festival, Albino Skunkfest, Spring Water Festival and more.
She has opened for or appeared with Ray Price, Suzy Bogguss, Radney Foster, Will Kimbrough, The Oak Ridge Boys, and others.
In 2020, Angela and Brandon released several singles from Angela's upcoming album. While COVID stalled her plans for a 2020 release and tour, she got busy recording a handful of new songs, written during quarantine, and plans to release her new album, "Witness", soon.
Advance copies of the new CD will be available at the Spring Water Festival and they will be playing lots of the new songs.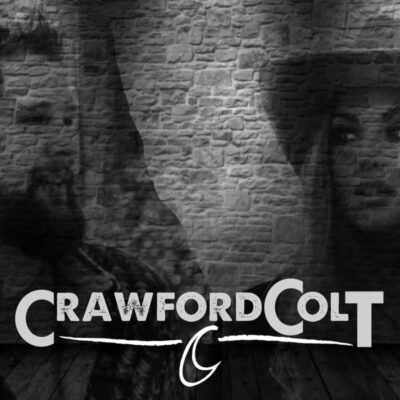 Crawford Colt
Crawford Colt features a mix of the mountain sounds of Appalachia and the spirit of traditional country music. Brandi Colt and Andrew Crawford began as two songwriters getting together to swap songs and collaborate as writers. They had so many requests for duo performances that they formed Crawford Colt.
Andrew Crawford is a career guitarist, instructor, singer, song writer, and producer. He has shared the stage and performed on albums with multiple Grammy Winning and well known artists in the Bluegrass, Americana, and country genres including Vince Gill, Jim Lauderdale, Dale Ann Bradley, Rhonda Vincent, Randy Kohrs. He is also a multi-instrumentalist with a reputation for skillful guitar playing and song writing. Andrew is from the Williamston area.
Brandi Colt is a songwriter and artist from Upstate South Carolina. After the success of her debut album, "Appalachian Hearts", she released "Unbreak a Heart" as the first single from her two volume sophomore album in December 2021. Currently she performs as a duo in Crawford Colt.
Crawford Colt performs regionally in the south East and all over the US. They have opened shows for Sunny Sweeney, Josh Morningstar, Clint Park, 49 Winchester, Creed Fisher, Little Texas, Alex Williams, Billy Don Burns, Kayla Ray, and more.
The Spring Water Festival will kick off on Friday evening with live music by Blue Sky Blues Band and the Carolina Coast Band.

The Carolina Coast Band features some of the Upstate's most talented professional musicians. Included are Joey Werner, the band's manager who plays keyboards and is lead vocalist. He has performed with many artists, including early stints as a drummer with the original members of the "Swingin' Medallions". Bass guitarist Frank Wilkie has toured internationally with The Marshall Tucker Band, Rickey Godfrey Band, and Garfeel Ruff Band.
Lead guitarist and vocalist Kym McKinnon has toured nationally with Nappy Brown. Drummer and vocalist Big Tez Sherard tours frequently with national artist Edwin McCain and has worked with other artists including Darius Rucker, and The Tams.
The band also features Rhonda McDaniel, ten year CBMA Female Vocalist of the Year, a recording artist with several number 1 hits. Rhonda also plays keyboards.
Rickey Godfrey, of Nashville, TN, is on guitar, keyboards, and lead vocals. Rickey is a beach and blues artist and the recipient of many CBMA awards including a song of the year and male vocalist of the year. He took the Blues Artist award for the City of Nashville in 2018. Ron Davis will be on trumpet. Alan Nowell is on saxes, woodwinds, and vocals.
Blue Sky Blues is a local blues/rock band from Piedmont that includes Ian Alerre on drums, Steve Myers on bass and Adam Lindsley on guitar and vocals. They will perform a variety of classic blues and rock songs with a few originals mixed in.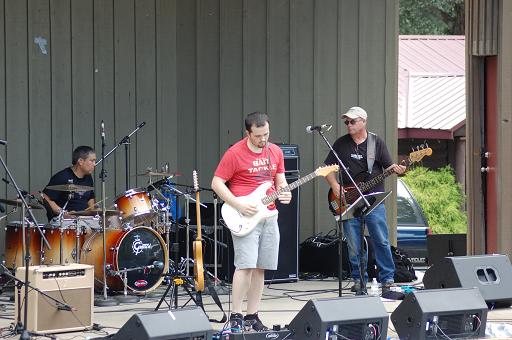 Blue Sky Blues Band
Blue Sky is a blues/rock band from Piedmont that boasts some of the area's top local talent. Featuring Ian Alerre on drums, Steve Myers on bass, and Adam Lindsley on guitar and vocals, Blue Sky is sure to deliver a fun and energetic performance. Listeners can expect to hear a variety of classic blues and rock songs with a few originals mixed in! Be sure to visit their website at www.reverbnation.com/blueskybluesband.
Gospel Stage
On Saturday, the park's Center Stages, also known as the Gospel Stage, will feature The Maples, New Beginnings, Living Truth, All for Him, Jennifer Phillips, Catlin Tierce, Trevor Thomas, New Day, Talya Starrett, Singing Tornadoes, The Other Side and Revealed.
The festival will also feature free kids activities, amusement rides, more than 50 vendors, antique and classic auto show, fire truck rides, festival food and other special attractions.