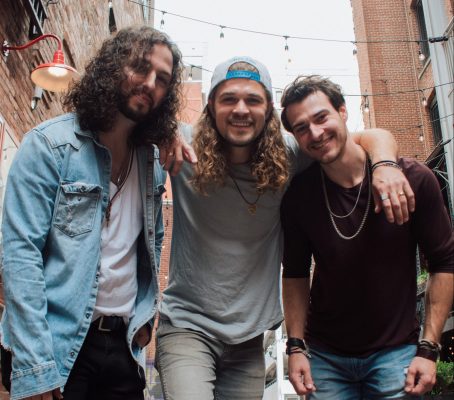 Featured entertainment for the 42nd Annual Spring Water Festival will be Levon, a country trio from Nashville, Tennessee.
The trio (l-r) is made up of Camden, Tennessee, native Ryan Holladay (on guitar, mandolin and harmonies), Northbrook, Illinois, native Michael David Hall (on guitar and lead vocals) and Sumter, South Carolina's Jake Singleton (on harmonies, bass, and percussion). They will be performing with Kyle Egart on drums.
All in their twenties, Levon's members share a collective musical passion for the 1970s and the artist/songwriter generation whose lyrics and melodies have remained relevant long after their time on the charts.
A few of the trio's musical roots are suggested by their name, an homage to the talents of The Band's Levon Helm, as well as Elton John and his song, "Levon."
"We wanted people to hear our name and kind of know where we were coming from," Hall says.
Levon's website says that Hall has opened many a performance with the following statement: "You have no idea who we are, but we're about to be great friends."
Making friends through the music is part of what it's all about for this soulful trio, whose cross-generational sonic appeal draws from past and present, with a harmony-driven style built around compelling lyrics and memorable melodies: music with a timeless quality.
Their debut EP, Levon EP, was released on May 12, 2017. "Ms. Marianne" is the lead single.
In June, 2017, they were mentioned in the Tennessee Journal's Top 5 Artists to watch at CMA fest. Video for "Ms. Marianne" premiered on People.com on July 31, 2017 and the song was placed on Sounds Like Nashville's 10 songs to listen to in September 2017.
Levon debuted on the Grand Ole Opry on June 30, 2018.
Their latest single, "Till the Wheels Fall Off" is now streaming on all platforms.
The band has been performing nationally as the opening act for classic rock band REO Speedwagon and recently performed with REO in Augusta, Georgia.
For more information or to hear their music, visit their website at:
www.levonthemusic.com or check them out on youtube.
Also appearing at the Spring Water Festival After Party Concert on Saturday will be Kendall Lanford and Clearview, an energetic country band playing music from the early 70's through modern day country hits and Blue Sky Blues Band, a local blues/rock band from Piedmont, will perform a variety of classic blues and rock songs with a few originals mixed in.
The Carolina Coast Band will kick off Friday night entertainment with beach music. The Carolina Coast Band features some of the Upstate's most talented professional musicians.
All day Gospel on the Park Center Stage Saturday will include: New Beginning, Living Truth, Grateful Hearts, Pineridge Boys, Epps Family, Jennifer Phillips, Redeemer's of Faith, The Other Side, Catlin Tierce, Maples, Tru Faith and Scott Phillips.
The Spring Water Festival will feature a 5K walk/run. Cash and gift card prizes will be awarded to the top 3 females and males. Registration fee is $25. Registration fee includes a race bib and timing chip. Race shirts can be added on to any registration for $15 each. Register online until race day at www.runsignup.com or email: Kellylanemoon@gmail.com
A link for online registration can also be found on the Spring Water Festival website at www.springwaterfestival.com
Listen to Levon – Why oh why
Watch Levon perform Runaway Love –
Organizers are still accepting business display and car show applications for the festival.
Local businesses, and non-profits are invited to have a display to promote their business at the festival.
Business displays should contact Dianne Lollis at 864-847-5743 or by email at missetta68@gmail.com.
The festival will again feature one of the Upstate's largest antique and classic auto shows, being sponsored by the Williamston Fire Department. To register contact David Huff at 864-625-1281 or email wfdchief@williamstonsc.us. Also online at www.williamstonfire.com. There will be awards in a number of categories.
Hours for the festival this year will be 6 p.m. to 10 p.m. on Friday and 9 a.m. to 4 p.m. on Saturday. The After Party Concert featuring Levon will be held 4 p.m. to 10 p.m. on Saturday.
The Spring Water Festival will be held August 25 and 26 in Williamston's Mineral Spring Park.
The festival will feature free kids activities, amusement rides, more than 80 craft and business vendors, antique and classic auto show, fire truck rides, festival food vendors and other special attractions including the 5K Spring Water Run.